Sunday, August 31, 2008
Foutaises Jean-Pierre Jeunet (eng sub)
From Jean-Pierre Jeunet comes a sweet short starring Dominique Pinon (Amelie, Delicatessen, The City of Lost Children, Alien: Resurrection ) A 9 minute comedy. Featuring muted colors with a sepia black and white, Pinon takes the viewer through various examples of what he "likes and dislikes". The music is by Carlos D'Alessio and Special Thanks is given to Claudie Ossard



Harry potter if made by japanese
Ever wonderd what Harry Potter would be like if it was made in japan as a tv show? Me, neither.. but anyhooo

Mahou Sentai Magimoon at Harry Potter/魔法戦隊マジレンジャー



Monday, August 25, 2008
Kevin Kelly: Predicting the next 5,000 ...
At the 2007 EG conference, Kevin Kelly shares a fun stat: The World Wide Web, as we know it, is only 5,000 days old and we are allready codependend on the web. Now, Kelly asks, how can we predict what's coming in the next 5,000 days?



Oktapodi
Here's another great short film from the French animation school, Gobelins. This one got a lot of attention at SIGGRAPH, though it's been floating around for a while. Great animation, and the rigging on the Octopi is pretty impressive. This clip might not be on YouTube for long, so enjoy it while you can!
Better quality
here
:
You can find the home page and a neat mini-documentary
here
.
Labels: animation news, movie news, Shorts
Wednesday, August 20, 2008
The Dark Knight: Early Joker Concept Art
These early pre-Heath Ledger Joker conceptual designs can be found in
The Art of The Dark Knight
. I was shocked to discover that the Joker design they eventually settled on, actually seems a lot tamer than some of the early concepts. Though the hair dosent look that cool
Labels: movie news, other
This and that no2
*
Whopper FREAKOUT! (Ghetto Version 2.0):
*
Crystal Castles Remixes "Bloc Party - Hunting For Witches"
*
Fantastic artwork from
Fleet street scandals
*
More art from
Picturesonwalls
.
*
Michael Bay's Rejected "
The Dark Knight
" Script. Apparently, Michael Bay wrote an unsolicited script for The Dark Knight that was ultimately rejected by Warner Bros.
The worst part is that I would propebly gone and see it if it got made =D
Here are some choice excerpts.
*
I love the fact that this guy is in his own queue ;)
*
Poster and B-roll from Olivers newest movie W.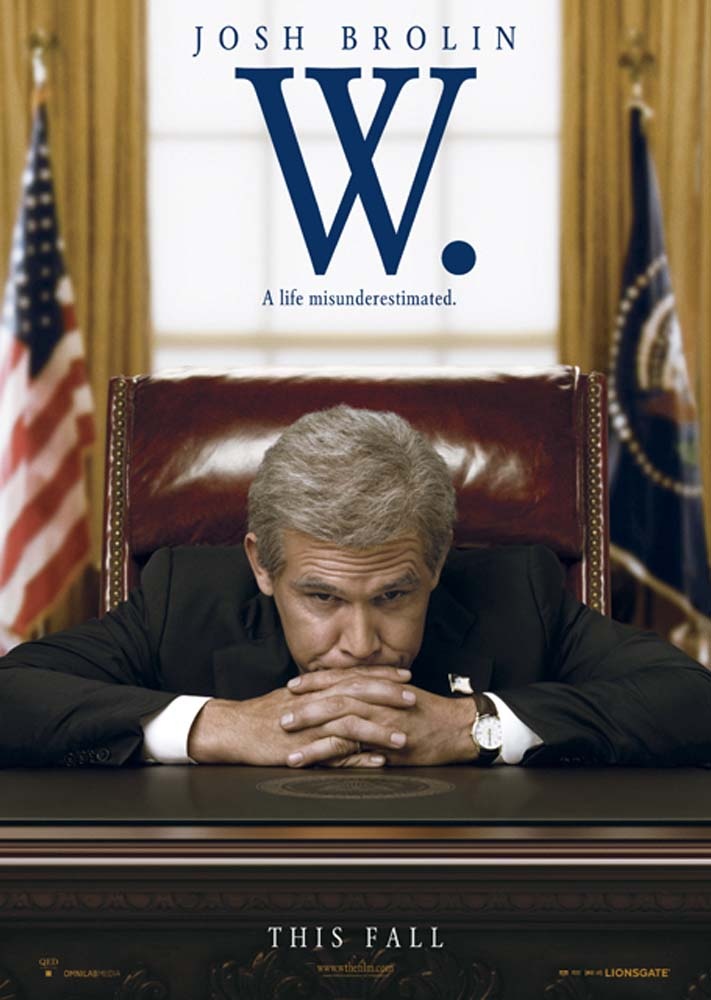 I got to say. I cant wait to see this. Its from director Oliver Stone. He has apparently made statement long ago that he would make a two movie deal around 9/11. He released the film World Trade Center a couple a years ago showing it form a american point of view then he was supposed to make another movie. This time from the middle-eastern point of view, but then something happened with the company that was paying for this and something really ugly must have happend because now hes making a movie about W himselfs. Josh Brolin looks amazing as the partyman though
B-roll
*
Finally, a movie where it might make sense for a collection of commemorative yard silhouettes to come with the special edition DVD.
*
http://www.plasmicstudio.com/watchmen/poster_comparisons/
*
Fracking awesome tshirt! http://www.lastexittonowhere.com/tshirt/038/
Propably need to bulk up a bit before I buy it though.. Still, its a goal
*
10 year running and it still the funniest ting I have ever seen. Heres for another 10! Now with 30% more slowmotion
Body Armor + Fashion Design = Armorni?
Who says protecting yourself from sniper attacks or chemical warfare needs to be ugly business? Certainly not Dutch designer Tim Smit. His "Urban Security Suit" will be all the rage in a war zone near you. Made of stylish neoprene and strategically lined with body molded kevlar, this runway show stopper will be THE must have accessory for your next war, skirmish, struggle, conflict, combat zone or civil strife you find yourself in or starting. Aeon Flux eat your heart out.
Designer: Tim Smith
Labels: other
Battlestar Galactica Panel - Comic Con 2008
Complete coverage of the "Battlestar Galactica" panel from Comic-Con San Diego 2008. About an hour hostet by Kevin Smith (clerks 1-2, mallrats, dogma, chasing amy)
Joining him are Showrunners Ronald D. Moore and David Eick on stage were Tricia Helfer (Six), Katee Sackhoff (Starbuck), James Callis (Dr. Gaius Baltar), Jamie Bamber (Captain Lee 'Apollo' Adama), Tahmoh Penikett (Lt. Karl 'Helo' Agathon) and one surprise guest batteling it out on "Best character - moments" and "series moments" etc.
To discover who dropped by the panel, click the link below. (Spoilers Ahead!)
http://www.scifi.com/comiccon/video/index.php?clip=4
No real word on who`s the last Cylon though =(
Labels: movie news, other
Sunday, August 10, 2008
The Last Guy Promotional Clip Now With English Subtitles!
An English translated version of the interview with The Last Guy's "developers" speaking Bengali — tongue planted firmly in cheek. The actual developers are Sony's Japan Studio and responsible for the PSP's Work Time Fun. Pretty sure they don't have a goat in their office, either. Well, maybe they do. Who knows.
Labels: games
Saturday, August 09, 2008
And CGI heads continue to creep me the fuck out.
Although these are some of the better facial tests Ive seen in, its still weird. Pendulum Studios have just opened their facial animation division, "Alter Ego" that will provide facial support for games to movies.



Alan Moores pisstake on Daredevil
If you`ve read the elderly daredevil its spot on with everything from the wibe to dialogue.
Also Moore guest stars on the Simpsons:
Moore. You big bloody man you. Your such a lovable git. Keep on trucking
Labels: other
The Dark Knight- Joker Interrogation Scene Spoof
Ile also throw in two "Dark Knight PSAs With Batman And The Joker" vids
Labels: commercials, other
Monday, August 04, 2008
Promotial picture for "20th Century Boys"
Found this promotial picture for the upcomming adaptation of the famous japanese manga "
20th Century Boys
" I have no idea what its about but this picture is just so fricking kool I just had to share..
20th Century Boys Synopsis:
Growing older is pretty rough and Kenji is finding out just how hard it can be as life starts wearing down on him. On top of trying to make ends meet running a convenience store he has to care for the niece that his missing sister left in his care. Memories of youth make it easier, until those memories come back to haunt him.

Kenji and his old friends are slowly being drawn into a mysterious conspiracy that could threaten the world. Who is the mysterious "Friend" and how does he tie into Kenji's youth? Why are there disappearances and deaths tied into Ochanomizu University? Their memories hold the keys to the puzzle, but time and age have clouded their minds.The strange occurrences and the reach of the "Friend" conspiracy grow by the day. It will all culminate on New Year's Eve 2000. Will Kenji and the others be able to put together the puzzle and save the world?
"20th Century Boys" is a science fiction mystery manga created by Naoki Urasawa. It won the 2001 Kodansha Manga Award in the General category, an Excellence Prize at the 2002 Japan Media Arts Festival, and the 2003 Shogakukan Manga Award in the General category.
Source: wiki
Labels: movie news, Poster
Friday, August 01, 2008
Disney's 'The Princess And The Frog' Teaser Trailer
It's been a long, long time since Disney has walked in the realm of 2D animated movies (barring any sequels and unknowns), but they are returning to their old ways — if only for one nostalgic rendezvous — and here is our first look at that return,
The Princess and the Frog
.
Check out the teaser trailer below.
Synopsis:
From the heart of Lousiana's mystical bayous and the banks of the mighty Mississippi comes an unforgettable tale of love, enchantment and discovery with a trumpet playing alligator, a love sick Cajun firefly, and a host of other charming characters at every turn.
The Princess and the Frog
is special in its own right as it is (surprisingly) the first time a Disney movie will have an African American princess. Anika Noni Rose will voice Princess Tiana, who will be joined by the voice cast of John Goodman and Keith David. Ron Clements and John Musker, who both wrote and directed Aladdin, The Little Mermaid, and Hercules, have again written and directed this film and even Randy Newman is involved, so they seem to have the proper ingredients to surprise us.
Labels: animation news, movie news
BBC Sport's Olympics Monkey
This animated sequence, based on the classical Chinese novel, "Journey to the West", has been produced by Damon Albarn and Jamie Hewlett, the men behind virtual band Gorillaz.
http://news.bbc.co.uk/sport1/hi/olympics/monkey/7521287.stm
Love the music ;)
Labels: animation news, Shorts
2 new posters for the day the earth stood still
GORT!!!!!
Labels: movie news, Poster
Subscribe to Posts [Atom]